The continuing adventures of "Eric's Trip Around the Sun". One final trip with the iPod.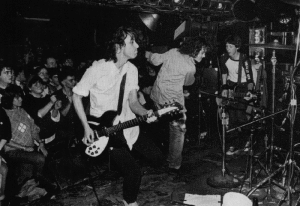 For a band that despised the road trip song, R.E.M. was clever enough to write songs that felt very visual. "Reckoning" is maybe the perfect album when driving through a state like Nebraska with not much to see but big sky surrounding you. It finds a way of being Americana without being obnoxious about it. The subliminal cover with the serpent that includes the various song titles off the album, done by the Reverend Howard Finster doubles down on their predecessor by identifying that the band's not playing games with the importance of putting together classic visuals.
I have always had a soft spot for R.E.M.'s 'Burning Down'. Now, even though the song was released as a B-side for 'Wendell Gee', the song was recorded during the Reckoning sessions and feels a bit more appropriate for that album, such as the lead in. It is not a very complex song and has similarities to 'Ages of You', another early song that ended up as a B-Side.
I have felt that R.E.M. songs carry different degrees of importance and this one is not thought-provoking lyrically, even though the song's lyrics when it was written way back in 1981 had been altered significantly to the Dead Letter Office version.
There were always a couple songs that were featured in my mind on the earliest of bootlegs that I purchased/acquired and this was one of those tracks. The bootleg, "R.E.M. – Georgia Peaches Ripe!" contained all the necessities for an R.E.M. bootleg; the classic lineup was featured (Berry, Buck, Mills, Stipe), the jacket including the photo of the band sprawled out on both sides of the LP, and an incorrect date of the show listed on the jacket (January 10, 1981 instead of the correct date April 10, 1981). I think that I read somewhere that individuals knowingly did this on purpose. The thought was that they did not want the bootleg to come back to them so they would change the date which would make it look a little less obvious in case someone saw it in an album bin somewhere.
'Burning Down' was the second track on this album, the first being a cover Buddy Holly's 'Rave On'. The quality of the bootleg, as well as the fact that there was a very raw quality to the boot, as well as their sound made a very powerful impression on me.
On the surface, the song is a fairly benign R.E.M. b-side that shows off their ability to write a catchy tune. For me, it was always something more, a doorway into a world that I have yet to exit.
• Joe Strummer & The Mescalaros – Burnin Streets
• R.E.M. – Burning Down
• Guided By Voices – Burning Flag Birthday Suit
• Radiohead – The Butcher