Day 50 – The Many Flavors of Brown Sugar
The continuing adventures of "Eric's Trip Around the Sun". One final trip with the iPod.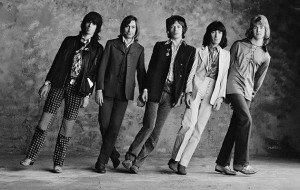 There are times when a song might appear on the list for the day and you are conflicted as to what to write.
One of the conflicts of rock and roll are the various songs that display a certain misogynistic patterns. There are several in the Velvet Underground catalog that while I enjoy them musically, you would not hear me singing these out loud anytime soon.
The Rolling Stones, 'Brown Sugar' is one such example. Now from a musical perspective, they wrote a catchy little song. On the other hand, some of the lyrics, the combination of sex, slavery and drugs are not promoted in a negative light. In fact, you would expect that if the song was played live that the fans should be singing along in unison with Mick Jagger.
It is no doubt a very clever play on words that can be interpreted in different ways but there is not a lyrical interpretation of this song that to me is presented in a positive manner that can allow me to somehow find joy in singing this. It really comes down to the tone only. Sometimes I think it would be better if you didn't pay attention to the lyrics.
Yet, there is something daring and very rock and roll about a song like this. There is an ambiguity to the lyrics which provide a little cover instead of just saying it as it is.
There is a taboo nature of the sexuality in particular which obviously presents a "Tasty" portrait of a young black girl. From the perspective of Jagger, this comes, of course, off as interracial, which for the times was pretty taboo as well.
It's not just crass words but something to be admired. I am sure I would never lead off with this at karaoke night but can still appreciate the art and craft of the lyrics.
• Oh Ok – Brother
• Animal Collective – Brothersport
• Rolling Stones – Brown Sugar
• U2 – Bullet the Blue Sky