Day 47 – Industrial Breath
The continuing adventures of "Eric's Trip Around the Sun". One final trip with the iPod.
Ministry. Oh Shit!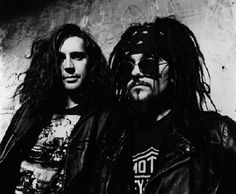 There are albums like 'The Mind is a Terrible Thing to Taste' that were both made me feel scared shitless and invigorated. Al Jorgenson looks like he should have been in a Mad Max movie. And the music?
My favorite on the album is 'Breathe', a full-blown throttle at corporate corruption and greed which turns our planet darker everyday. It's a rallying cry against the crimes to our planet and our environment that those in dark places use their influence for money and ignore the devastating results that they are living for our future generations. 'Breathe' is the song that you play at "11" at 2 am in the morning to piss of the neighbors.
The band had slowly been moving in this direction as 'Breathe' is a far cry from "(Every Day is) Halloween," which would be more perfect for the dance/club scene with "Breathe" being part of the demolition scene. INDUSTRIAL can be written in all caps while still driving meaning through their songs dealt with many of the serious issues of their times: political corruption, nuclear war, drugs, .etc.
As I have relived with friends who were there, I still remember going to the second Lollapalooza back in 1992 in Tinley Park, while during an extended break before Ministry's set, the fans got a little out of hand and began ripping up and chucking huge pieces of sod throughout what was known at the time as "World Music Theatre" (then the "New World Music Theatre", then "Tweeter Center", then "First Midwest Bank Amphitheatre and currently Hollywood Casino Amphitheatre). Sod, paper cups, ears of corn . . . whatever fans could get their hands on was being strewn in the air while the band was playing their set. It was this insane chaotic scene as Ministry was just revving up with N.W.O. that you had to turn your head to the lawn just to prevent you from getting whacked in the head with a huge piece of sod.
This was only until Al had enough and threatened to do the same unless they stopped.
And we did.
• Thom Yorke – Brain in a Bottle
• Patti Smith – Break it Up
• Pixies – Break My Body
• Lush – Breeze