Day 8 – 'All' In Again
Day 8 'All' In Again
The continuing adventures of "Eric's Trip Around the Sun". One final trip with the iPod.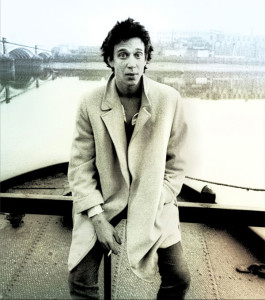 Yes, there would be something slightly romantic about sitting in a seedy bar on a Sunday night with a light crowd. You've probably already had too much. You've lost count 5 or 6 plus that shot you did with the regular earlier in the evening. You are drinking by yourself but your mind is on someone else.
There is a set of Christmas lights hastily set up behind the bar as a quarter of the strand is hanging down from the ceiling. The smell of cigarettes emanates throughout the bar from the years and years of smoking that's built up as a thick tar on the knotty pine walls. You look out the window and snow is falling lightly and you can hear cars drive over the wet pavement outside. It's about midnight and you know that you have to go because tomorrow is a work day.
In the background, Richard Hell and The Voidoids are on on the jukebox playing "All the Way", to a light audience. A staple for crooners, Richard Hell's version on the surface sounds as if he was planning on blowing up the entire Sinatra catalog. Every verse seems to have an off-key but endearing moment. It feels genuine as if Hell wrote it himself and dedicated it to someone special. You, at that moment, feel the breadth of what Hell set out to do. Your eyes slightly water as your mind wanders to her.
You pack your things and you decide to walk by her place at 1 a.m., look up at her dark window, and begin to sing…
When somebody loves you
It's no good unless he loves you
All the way…..
• St. Vincent – All My Stars Aligned
• Elf Power – All My Passengers
• Spoon – All the Pretty Girls Go to the City
• Elf Power – All the World Is Waiting