Day 11 – The Amazing Scott McCaughey
The continuing adventures of "Eric's Trip Around the Sun". One final trip with the iPod.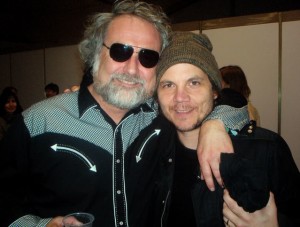 I was reviewing my songlist for today and saw that it was a fairly abbreviated affair (only about 10 songs). One of these songs, The Minus 5's 'The Amazing Dolphin Boy', was my early choice, not necessarily that I am completely fond of the song; it's this surreal, "I am not sure what Scott McCaughey was smoking"-type of song. But I have always admired the McCaughey because he is one of these artists that has found ways to work with so many others.
He was the lead singer for the Young Fresh Fellows. He was a backup instrumentalist with R.E.M. from 1995 until they disbanded as well as performed in his other band, The Minus 5, his own collection of roughshod musicians that he would acquire outside of bars and convince them to come onstage with him. He has also a member of the Baseball Project, with Steve Wynn, who decided that they would get drunk at night, flip through old Topps baseball cards from the 70s and write songs about them.
I could go on and on about the side-projects that he has been with but there are websites devoted to that.
Coincedentally, I saw a post on my Facebook feed about the Minus 5 (Scott McCaughey) coming to Chicago on September 10, 2001, to record an album with Wilco. Anyone of course knows that this is 1 day prior to 9/11.
It was only 4 days later that the Minus 5 and Wilco hit the stage for a show at the Abbey Pub.
15 September 2001 – Abbey Pub, Chicago, IL
The Minus 5 set: Thax Douglas poem / Life Left Him There / Retrieval of You / Where Will You Go? / Daggers Drawn / That's Not the Way That It's Done / Days of Wine and Booze / I'm Not Bitter / View from Below / The Night Chicago Died Again (The Death of Minus 5) / (I've Got) A Lyrical Stance
Wilco Set : Always in Love / War on War / Pick Up the Change / Should've Been in Love / I'm the Man Who Loves You / Ashes of American Flags / Hesitating Beauty Passenger Side / A Shot in the Arm / She's a Jar / California Stars / Outtasite (Outtamind) / Sunken Treasure
The Minus 5 set: Modern World /I Wish I Was Your Mother (Tweedy vocal) / Lies of the Living Dead
If you have been to a Chicago Wilco Show, you know that Thax Douglas is a stalwart for opening shows with his surreal poetry. Thax is like Santa's dumpy brother writing poetry about Elves with keyholes in their eyes that reveal reindeer destroyed by 5 year old kids that pour battery acid on their antlers. For anyone in Chicago that does not go to poetry readings this actually makes you feel good because you feel slightly cultural.
I still remember where I was in the audience, on the right hand side by the stage. I do not remember how much I drank, which means it was probably quite a lot. I think that Scott had these funky red pants on and the band was obviously somber onstage and I do not remember Jeff Tweedy losing his temper at anyone in the audience for being a chatty Cathy. If I had a copy of the show it is obviously lost and I have not wanted to revisit it for any reason.
Yes, the night was slightly surreal; a concert 4 days after 9/11 which obviously shook our worlds.
The Minus 5 on this night of course was Scott McCaughey and Wilco, It was initially listed as a Minus 5 (with Wilco) but from what I recall, the Wilco set was slightly elongated due to the events of the past week.
There has always been that albatross of 9/11 that has hung around my neck regarding the album 'Down With Wilco', which, in my humble opinion, was not the most upbeat of Minus 5 records.
However, what are you supposed to do when it's right after 9-fucking-11? We have to perform and get onstage in front of an audience and somehow get them into the show as well. For that I cannot complain.