Day 23 – Ira and Georgia
The continuing adventures of "Eric's Trip Around the Sun". One final trip with the iPod.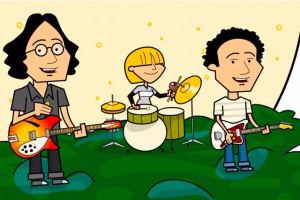 While the summer was unusually cool for a Chicago Summer, we have been blessed with an amazing Indian Summer so far. The weather has been comfy and for that reason there has been no reason to pull out our Autumn Sweaters just yet.
Yo La Tengo's 8th album 'I Can Hear the Heart Beating As One', is their most critically acclaimed album of their long and storied career. It was the album that introduced me to them and I never looked back. The husband/wife duo of Ira Kaplan and Georgia Hubley formed the band and James McNew has been a mainstay for over 20 years.
Kaplan and Hubley are the deans of rock groups who have remained together both as a couple and a band for a significant period of time. I should say that I cannot think of another group that has been together that long. Sonic Youth was there for awhile before Thurston Moore/Kim Gordon divorce. I have no doubt that there are a pair of cats somewhere on this earth named Ira and Georgia.
They are one of the few bands that I can honestly say have never put out a bad record, at least from this fans perspective.
The name "Yo La Tengo" arrived from a baseball anecdote used by Richie Ashburn to try to communicate with Elio Chacon whose English was limited.
There has never been an argument for me what is the best song on the album. Autumn Sweater is the heart and soul of the record. It's seductive with the percussion of Georgia Hubley giving Kaplan's singing all that more alluring. It's a 3 am hips grinding-type of song which is even a bit more danceable than what you would initially think. It's not a let's fuck around but it would not be that bad if I could exit the room for a moment and make love to my wife. . . and her autumn sweater.
• Fiery Furnaces
• Leonard Cohen – Avalanche
• Jean-Louis Marat – Avalanche IV
• Led Zeppelin – Babe I'm Gonna Leave You Now