Day 38 – Black as Nero
The continuing adventures of "Eric's Trip Around the Sun". One final trip with the iPod.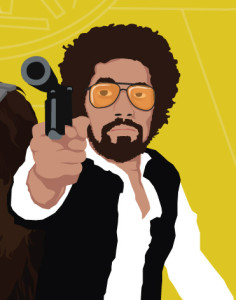 Danger Mouse has his hands all over the music industry as a musician, songwriter and producer including Gnarls Barkley (with CeeLo Green), Broken Bells (with James Mercer) as well as producing albums by Gorillaz, Beck and the Black Keys. I never thought that he got the type of credit that he deserved on the album 'Rome', in which he co-wrote with Daniele Luppi.
If the album reminds you of Clint Eastwood at all, possibly "The Good, The Bad, and the Ugly", then you are on the right track. The album is inspired by Spaghetti Westerns which places it in an odd category of current contemporary music.
Norah Jones is featured on the song "Black", which I have always found to be the standout track on this impressive album. I would not say that I am following Norah Jones or Danger Mouse (and for that matter Jack White or Daniele Luppi) in such a manner that I would immediately go and look for this album and embrace it.
A good place to start with Spaghetti Western music would be Ennio Morricone who had his hands on several of these. Spaghetti Western films were being made in Europe, (typically in Italy) with the most famous of these filmmakers, Sergio Leone. The concept of a European making a movie about an American culture the American West, from the outset would seem illogical that the genre would catch on, but the American Western, up to this point, one of the most significant aspects within Hollywood is getting fairly cliché and boring.
Danger Mouse and Daniele Luppi bring upon a more modern contemporary view but with still giving a unique credibility to the music. I remember when I saw The Good, The Bad and the Ugly for the first time and thought what the fuck am I listening to? Thus, thinking about "Rome" this album within that mindset has always been comforting and welcome.
• Crystal Castles – Birds
• The National – Bitters and Absolut
• R.E.M. – Bittersweet Me
• Bob Dylan – Black Like Me