Day 41 – Big Hands, I Know You're The One
The continuing adventures of "Eric's Trip Around the Sun". One final trip with the iPod.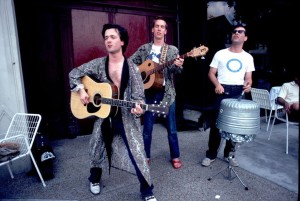 There are very few albums that are able to capture the angst-ridden teenage years better and at the same time cross genres to become acceptable. The debut album by the Violent Femmes is one of those albums.
The songs have been ingrained on all of our brains from:
When I'm a'walkin I strut my stuff and I'm so strung out
I'm high as a kite and I just might stop to check you out
It's punk, it's Jonathan Richman. It's gold.
Of course, what is slightly unique about this album going Gold was that it did so without hitting the Billboard Charts.
There has always been something much more comedic, in my honest opinion, regarding Gordon Gano's lyrics adding up to shock value. It might have been reality and might have been shocking. I never did have an "Add It Up" moment like the Ethan Hawke character had in Reality Bites when he covered the song onstage.
I can say, however, that "Blister in the Sun" did make it onto the playlist at my wedding. Teen angst was represented.
But the humor was what always made it so appealing. It's a guys thing but in a charming way. Sure, Richard Hell suggested that 'Love Comes in Spurts'. For the Femmes they questioned why we cannot just have one big FUCK while thinking of the jilted lover, a moment that we all have experienced. It's an album that we will continue to share and pass on, never feeling dated or out of sorts.
Maybe every generation needs their "Ding-a-ling"? I mean there is absolutely no problem with this cute little diddy. Chuck Berry is All-American rock star.

It's incomprehensible that Gano and Co. were not able to align the stars as much as they did consistently on their debut album.