Day 2 – Don't Ask Vin Scully Jerky Questions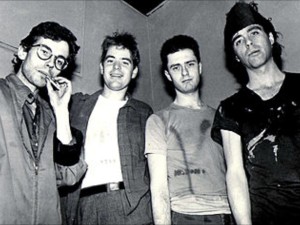 The transition of Day 1 into Day 2 saw the first duplicate song played by 2 different artists: Mission of Burma/R.E.M. – Academy Fight Song. Mission of Burma is a band that by the time they were getting a tiny bit of notoriety, they ended up breaking up due to Roger Miller's tinnitus, however, not before releasing a solid single, EP and studio album.
I think one of the reasons that I was fond with R.E.M. was their tendency to dig deep for bands that they believed deserved a bit of notoriety. Their cover was never more than something they played during their Green Tour, as well as ending up on their Holiday Single to fans of the band. There is no doubt that this kind of exposure can still play into the success of the band.
On a completely separate note, as pondering this song tonight for the Z-Note, I read an article about the great Vin Scully "Raging" on and I thought to myself what would it take for Vin Scully to replace Clint Conley on vocals and proceed to sing Academy Fight Song….
Walk into my room
Ask me jerky questions
The genteel nature Vin Scully washed away in the urinals of Chavez Ravine; instead a loud, overbearing, herky-jerky, performance filled with plenty of passion by an 88 year old god of journalism, which is not necessarily far from the original as Conley received a degree in broadcast journalism after Mission of Burma broke up.
Rock and roll cannot be taken too seriously.
Back to our story at hand. Not much to say in terms of the quality between the R.E.M. and Mission of Burma versions. Mission of Burma's clearly superior here as R.E.M. turned their version into a catchy pop song – i.e. Vin Scully on nitrous.
• R.E.M. – Academy Fight Song
• Guided By Voices – Acorns and Orioles
• U2 – Acrobat
• Wire – Adapt